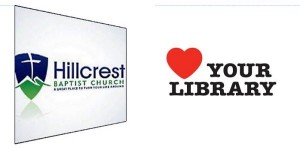 Ministry Leader:  Kim Peake
"When you come, bring the cloak that I left with Carpus at Troas, also the books, and above all, the parchments." 2 Timothy 4:13.
The Hillcrest Baptist Church Library supports the mission of the church and the spiritual growth of individual members. The library seeks to deepen members' faith by providing resources that will enrich and grow their devotional life as Christians.
The HBC Library will:
Provide print and multimedia materials with Christian viewpoints
Strengthen the educational program of the church
Encourage reading by members and foster an appreciation of good literature
Stimulate conversation and deeper understanding of social/economic issues
The HBC Library is here for all who continue to pursue and strengthen their personal relationship with the Lord Jesus Christ, our Savior.